To ensure high-quality monitoring and not only to address the configuration issues in your environment, ATOM offers the ability to monitor the performance of all monitored devices. Basic monitoring is performed on the most common indicators, such as indicators:
LogicalDisk(*)\Avg. Disk sec/Read
LogicalDisk(*)\Avg. Disk sec/Write
LogicalDisk(*)\Current Disk Queue Length
LogicalDisk(*)\Disk Reads/sec
LogicalDisk(*)\Disk Transfers/sec
LogicalDisk(*)\Disk Writes/sec
LogicalDisk(*)\Free Megabytes
LogicalDisk(*)\% Free Space
LogicalDisk\Avg. Disk Bytes/Transfer
Memory(*)\Available MBytes
Memory(*)\% Committed Bytes In Use
Network Adapter(*)\Bytes Received/sec
Network Adapter(*)\Bytes Sent/sec
Network Interface(*)\Bytes Total/sec
Processor(_Total)\% Processor Time
Processor\% User Time
System(*)\Processor Queue Length
However, not only basic indicators are the right indicator, so we add performance meters depending on the monitored service such as Microsoft Exchange Server, Windows Server Active Directory, Microsoft Advanced Threat Analytics, Microsoft SharePoint, Microsoft SQL Server and many more. From the data we get, we also build recommendations that you then get in the form of a clear package where you can get a global view of any problems. ATOM understands very well that the peak value is not important, but rather the average value over a longer period or a percentile that provides a better view of the performance of the monitored devices.
Within the monitoring environment, there are prepared custom packages for monitoring alerts, which are sent only if the monitored value is exceeded in critical numbers. All of these features are included in the "Server Performance" package.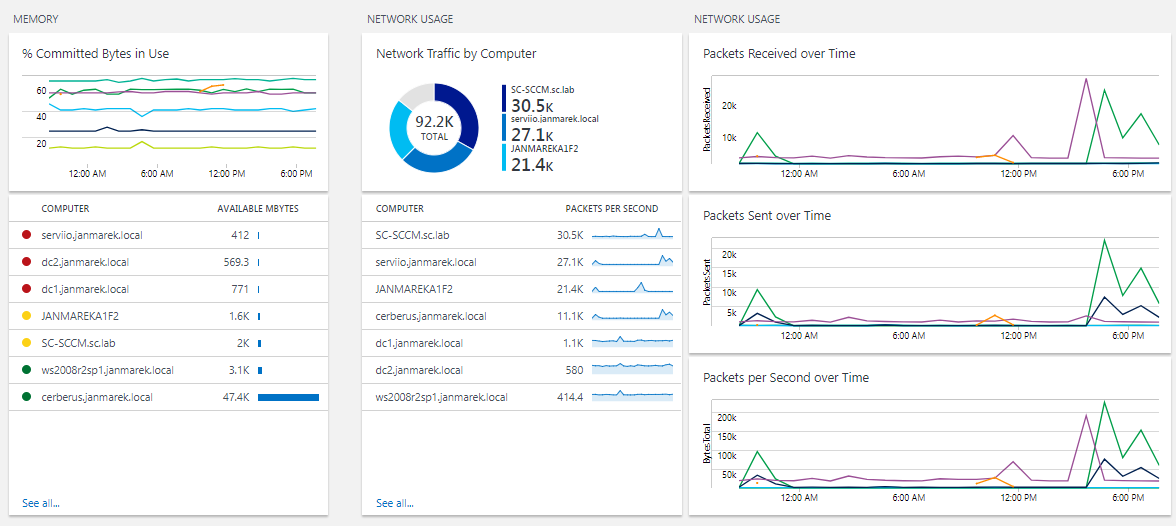 For the assessment of disk capacities, a separate "Windows Operating System HealthCheck Lite" package is used, which provides additional checks at the level:
System availability
Current alerts detected
Setting the time and delay in milliseconds compared to the NTP server set
Current NTP server settings
Disk space available
Windows service conditions
Restart server - both requested and unsolicited

If performance counters listed and displayed are inadequate, they can be viewed through a direct performance query and collected performance counters, or ask ATOM support to adjust the settings and add a counter that is important for you to monitor (such as a custom service counter, an application, a process, etc...).